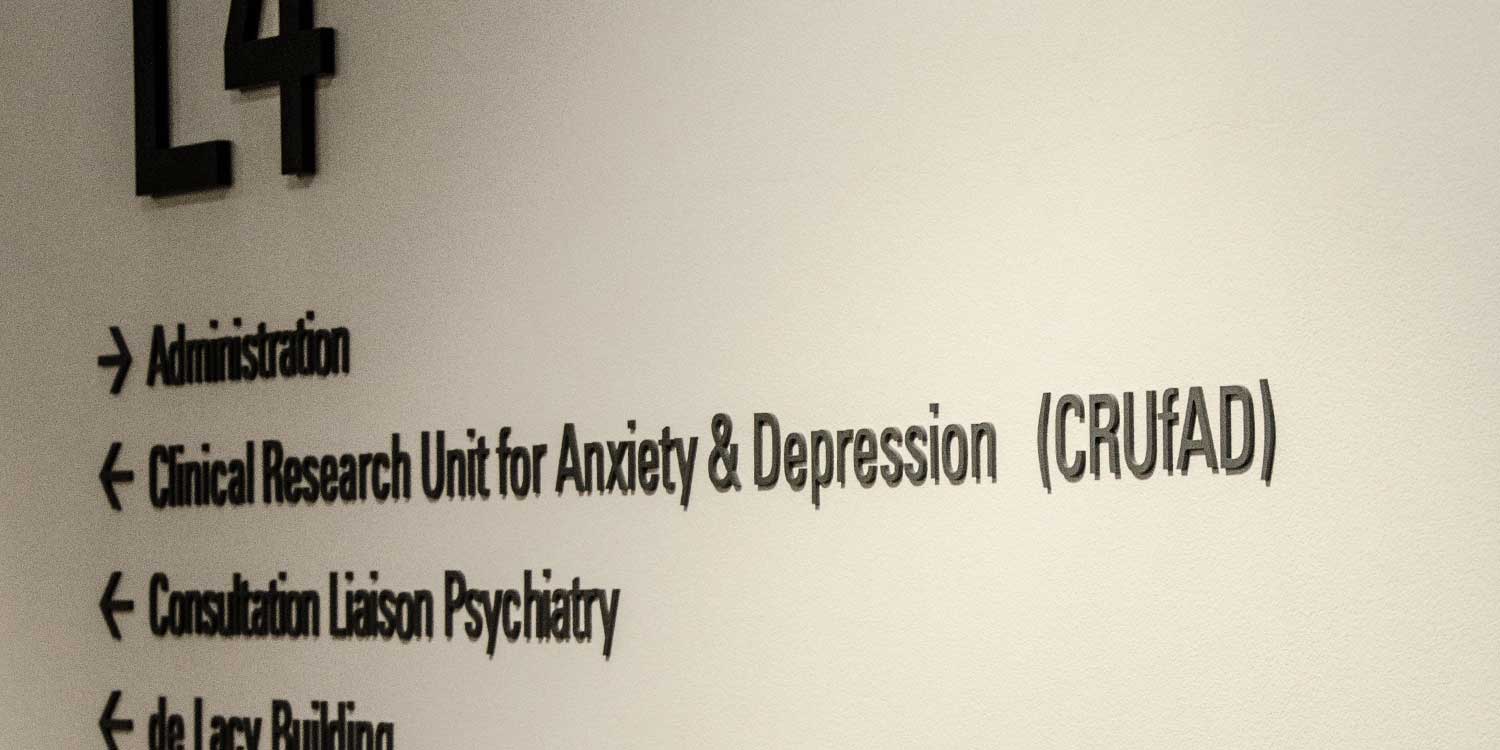 What is anxiety?
Anxiety is a normal human emotion. But, if it occurs too often or is severe, it can affect your quality of life. In those situations we often describe anxiety as a 'disorder'. There are several types of anxiety disorders and people often have symptoms of more than one type.
What is depression?
Sadness is a normal human emotion. But, if it happens too often or becomes severe, we often describe the person as having a 'depressive disorder' or 'depression'. Depression is very common and affects more than 1.5 million Australian adults each year. Because depression affects motivation, energy levels and self-esteem, recovery from depression can be hard work. But, the good news is that most people can successfully learn to manage their symptoms, regardless of age.
How we help
The Clinical Research Unit for Anxiety and Depression (CRUfAD) consists of three departments that each work to research and deliver practical treatment to patients struggling with anxiety and depression.
Treatments delivered by CRUfAD involve Cognitive Behavioural Therapy (CBT),  a method of treatment for psychological disorders that takes a practical, task-based approach to solving problems.
THIS WAY UP provides online treatment programs, education and research in anxiety and depressive disorders.
VIRTUAL CLINIC conducts clinical trials for web-based education & treatment programs for anxiety and depression.
ANXIETY DISORDERS CLINIC, located at St Vincent's Hospital in Sydney, specialises in the assessment and treatment of adults with anxiety disorders.
Are you struggling with some aspect of your thoughts or behaviour?
Worried about a loved-one?
Or simply interested in mental health?
Visit This Way Up for detailed information and factsheets on depression and anxiety disorders, as well as treatment program information.
What is anxiety?
Anxiety is a normal and healthy emotion. It involves physical sensations (e.g. increased heart rate and feeling shaky), thoughts about danger or threat (e.g. worrying about getting sick or not getting on well with others) and behaviours (e.g. avoiding situations or seeking reassurance from others). 
For some people, anxiety can become problematic. Worries can start to feel uncontrollable and people can start avoiding important activities. There are many different sorts of problematic anxiety. 
Take part in research trials
Virtual Clinic conducts clinical research for Internet treatment of Anxiety and Depressive Disorders. Find out what trials we are recruiting for and get involved.
Anxiety Disorders Clinic, Sydney
Face-to-face or telehealth
Experts in CBT
Centrally located in Sydney
Personalised care