Getting started with CBT at the Anxiety Disorders Clinic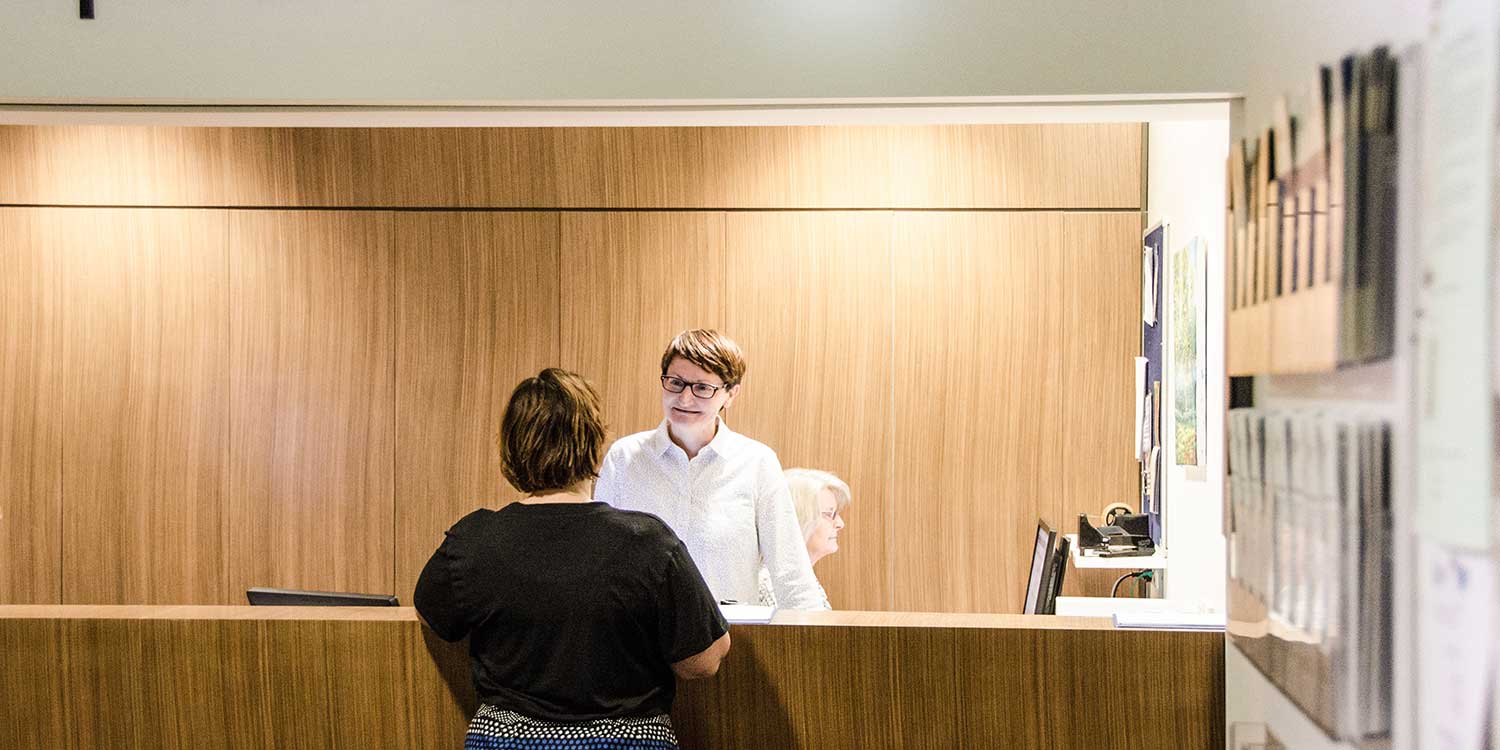 Step1: See your clinician & get a referral
Make an appointment with your clinician (GP, Medical Specialist, Psychologist or any other Allied Health Professional) to discuss whether CBT at the Anxiety Disorder Clinic is a treatment option for you.
If your clinician believes you may benefit from an assessment at the Clinic, you will need a referral letter from your GP.

Step2: Make an appointment for an assessment
Once you have a referral from your GP, you will need to contact us to make an appointment for your initial assessment.
You can make an appointment by emailing us your contact details and referral letter to [email protected] or you can call us on (02) 8382 1400 on Wednesdays only.
Visit Our location for information on how to find us.

Step 3: Your initial assessment
At your initial assessment you will be asked to complete some questionnaires and a specialist psychiatrist will conduct a directed diagnostic interview.
The psychiatrist will ask a series of specific questions to determine;
(a) whether you have a disorder that can be treated at this clinic, and
(b) whether we think you will benefit from our programs.
Please be aware that this initial assessment is not designed to provide supportive counselling or to obtain a comprehensive history of your difficulties. It is a structured assessment of your current symptoms and experiences.
Initial assessments usually last for an hour.

Step 4: Outcome of assessment
Based on your diagnostic interview with our specialist psychiatrist you will then receive one of three outcomes.
1. You are likely to benefit from treatment at the Anxiety Disorder Clinic and will be prescribed a program of CBT for up to 6 months.
2. The assessment indicated that you are unlikely to benefit from the treatments provided at our clinic. This can be for a large number of reasons, which will be discussed with you and communicated back to your referring GP along with treatment recommendations.
3. Your assessment is inconclusive. In this case further sessions will be planned for clarification and treatment planning.

Step 5: Treatment and Post-Treatment review
If you are assessed as eligable for treatment at the Anxiety Disorders Clinic you will be recommended a treatment program that involves Cognitive Behaviour Therapy (CBT).
Treatment programs are conducted in face-to-face sessions with a clinician as well as over the internet (iCBT). All treatment is time-limited and is completed within 6 months.
At the end of your treatment program, a clinician will conduct your post-treatment review. This review will assess the effectiveness of treatment and provide recommendations for further treatment if any is required.
Am I eligible for treatment at the Anxiety Disorders Clinic?
Treatment here may be right for you if:
your primary concern is an anxiety or depressive disorder
you are not currently using drugs or alcohol excessively
you would like to trial a brief skills-focused therapy
you are not in crisis or seeking long-term support (6 months+)
To book an initial assessment you will need:
a Medicare card
a referral from your GP
ADC's treatment is:
Face-to-face or over the internet

Low or No Cost

Specialised

Delivered by leading experts in CBT

Proven and backed by 35 years of research

Easy to access from anywhere in Sydney
Who is not likely to benefit from the treatment programs at the Anxiety Disorders Clinic?
Excessive anxiety is a very common difficulty. The clinic provides time-limited cognitive behavioural treatments for specific anxiety and depressive disorders. However, some anxiety difficulties are best treated by other types of therapy that are not provided at our clinic.
Anxiety and low-mood often co-occurs with other difficulties such as psychosis, longstanding difficulties managing emotions, eating disorders, chronic life stress, relationship problems and difficulties with self-harm or suicide. In many cases, it is best to treat other difficulties before addressing the anxiety with CBT.
Patients are not accepted for treatment while they are taking benzodiazepines or have alcohol or drug dependence. We would recommend that these issues be adequately addressed and controlled first.
Patients whose anxiety disorder is the subject of legal proceedings for financial compensation are not accepted into treatment programs at this clinic, and no medico-legal reports are provided.

The Anxiety Disorders Clinic (ADC) specialises in the assessment and treatment of adults with anxiety disorders. The Clinic is part of the Clinical Research Unit for Anxiety (CRUfAD) at St Vincent's Hospital, Sydney.
Contact Us
Level 4, The O'Brien Centre St. Vincent's Hospital 394-404 Victoria Street Darlinghurst NSW 2010 (Map) (02) 8382 1400
Copyright © CRUfAD 2017. All rights reserved.